FINE ART RESTORATION AND FRAMING
CONSERVE YOUR ART'S VALUE WITH SPECIALIST CARE
If your work looks tired, the frames are old-fashioned or there are damages, the art cannot shine. We arrange restoration and reframing with the most reliablie experts in the field, finding solutions for most problems.
With proper care and expertise, your artwork will get a new lease of life. Here are a few examples how we have helped getting works back on track. Email us if you have an artwork in need of TLC.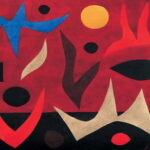 The "Study for Fire Dance" by John Coburn (1925 – 2006), a watercolour measuring 51 x 70 cm, needed a new frame to bring out the beauty of this classic work by the master of colours. We organised a sympathetic reframing on behalf of our client.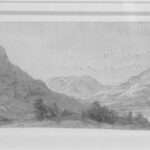 This John Glover (1767 – 1849) pencil drawing needed careful restoration and a sympathetic frame to bring out its delicacy in full. Using the best experts for both restoration and reframing provided our client with a great result.
"The Hitchhikers" by Jeffrey Smart (*1921) is a great example of his work, a small oil on board. An updated frame brought it back to full life.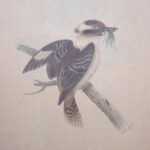 Our client was left a sizeable number of lovely paintings by famous Australian bird painter Neville Cayley (1854 – 1903). Unfortunately, they had been badly neglected over many years. With careful restoration and addition of period-style frames, these birds on paper now sing again.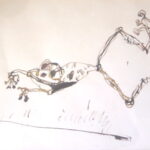 The old frame did not do justice to this lovely John Olsen drawing. We had the work conservation framed to protect it as best as possible.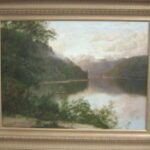 William Piguenit (1836 – 1914) captured the view of Lake St. Clair in Tasmania beautifully in oil on canvas. However, the painting had suffered from severe cracking and paint loss, and a lot of dirt had accumulated over time, plus the frame was not in keeping. The professional restoration and reframing brought out the depth and perspective again.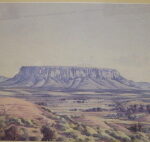 'Mount Sonder' is one of Albert Namatjira's (1902 – 1959) favourite views of Australia's red centre. This watercolour was affected by foxing (mould) over time – knowledgeable restoration removed it.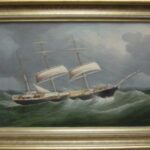 This oil on canvas by W. B. Spencer was afflicted by paint loss and had been over painted and covered in a heavy varnish. The restorer brought the work back to its true form, and a sympathetic frame now has the ship sailing at full speed.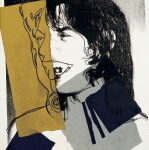 This screenprint by Andy Warhol of Mick Jagger was in excellent condition, however, the frame didn't do it justice. We had it reframed professionally to protect the paper and fragile colours.
"We would like to thank you for the appraisal work you recently did for us. It was invaluable in better understanding the true worth of some of the artworks we acquired. We really appreciate the insights you provided and your prompt and friendly service, and we look forward to dealing with you again in the future."- J. & L.B.